We are happy to announce Kimono rental & dressing services on the day of our SEIJIN-shiki on January 19,2020.

2020年1月19日に開催される日米友好成人式で着物のレンタル&着付け、メイクアップを参加者特典の割引価格でご提供します!
Kimono Art and Yumura Kimono Works will kindly offer discounted Kimono rental, dressing and makeup service at the venue, Bellevue College Carlson Theater, from 9 am.
Please make arrangements directly with them. Space is limited!
予約は直接お願いします。
★Kimono Art 
Kimono Art has offered us an exciting deal! 20% off in Kimono Rental and Dressing services!! it's 20% off from the price listed in the flyer.
****There is no discount for photo services.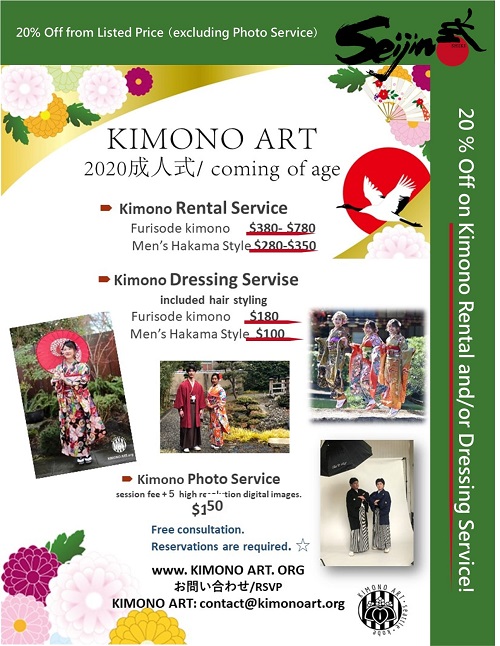 ★Yumura Kimono Works
Yumura Kimono Works has a special price for our SEIJIN-shiki participants! Rental & dressing $220, Hair and makeup $150 by Eugenia Shelonaev @booslin (Instagram)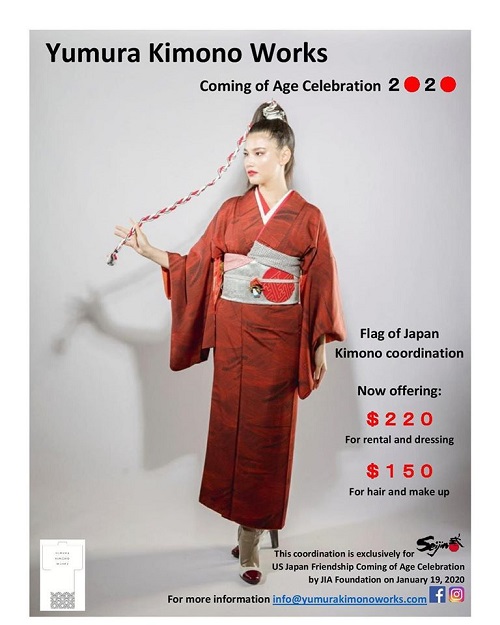 Want to attend the SEIJIN-shiki?
Space is limited. Please register today!
日米友好成人式に参加されたい方は事前登録をお願いいたします。
< New SEIJIN, young adults >
REGISTRATION for new SEIJIN, young adults with birthdays between January 1998 and March 2000 (turned 20 or 21 during this time frame)
Even if you are not born between the aforementioned timeframe, you can still join this event.
<General Attendance>
Friends or Family of young adults, people who are interested in celebrating them. Feel free to attend. Seats are limited. Please fill out this general registration form.
<Volunteer>
We are also looking for volunteers to help make this event a great success! Volunteer application is here.
Hope to see you at our SEIJIN-shiki!